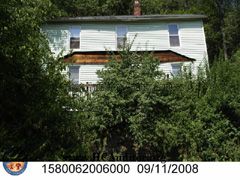 NEIGHBORHOOD:
Riverside
YEAR BUILT:
1900
USE:
Single-family dwelling
OWNER:
Eric W. Furman III
ASSESSED VALUE:
$23,850
HAZARD:
December 2010.
CONDEMNED:
June 2009, open to trespassers and heavily vandalized. The building had a collapsing chimney, rotting walls, water damage, a failing deck, falling cornice, poor gutters and downspouts, hazardous stairs, missing and damaged siding, and missing/hazardous handrails and guardrails, as well as high weeds and an interior filled with trash. Criminal status.
ORDERS:
--
REASON RAZED:
Declared a public nuisance and entered into the City's hazard abatement program.
MAP