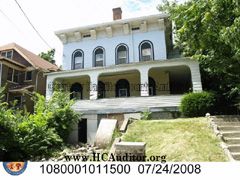 NEIGHBORHOOD:
Avondale
YEAR BUILT:
1900
USE:
Two-family dwelling
OWNER:
Terrence R. Dickey
ASSESSED VALUE:
$61,260
HAZARD:
January 2010, added siding pulling away from structure and evidence of foundation failure.
CONDEMNED:
July 2009, for driveway retaining wall, rotted cornice, gutters and downspouts, litter and weeds. Criminal status.
ORDERS:
--
REASON RAZED:
Declared a public nuisance and entered into the City's hazard abatement program.
MAP