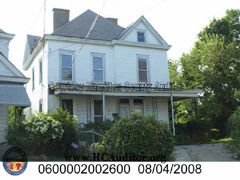 NEIGHBORHOOD:
Walnut Hills
YEAR BUILT:
1895
USE:
Three-family dwelling
OWNER:
Gerald Anderson
ASSESSED VALUE:
$8,730
HAZARD:
August 2009, adding gutters and downspouts, broken and missing windows, and water damage.
CONDEMNED:
December 2007, now with a failing foundation as well. A criminal case was filed in March 2009, with the then-owner pleading not guilty. She was entered into the housing diversion program in August 2009. The case was dismissed in May 2011 due to, um, a new owner.
ORDERS:
December 2002 for lack of heat, entry doors, plumbing leaks, a hole in the ceiling, electric fixtures, hall lighting, and exterior doors. Ordered vacated and barricaded in October 2004. Re-issued to new owners in September 2005, and again to a new owner in May 2006, and AGAIN to a new owner in February 2007. New owner in September 2007!
REASON RAZED:
Declared a public nuisance and entered into the City's hazard abatement program.
MAP