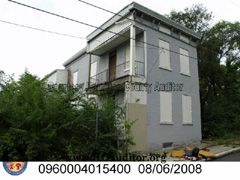 NEIGHBORHOOD:
Over-the-Rhine
YEAR BUILT:
1865
USE:
Single-family dwelling
OWNER:
BAH Real Estate Services LLC
ASSESSED VALUE:
$39,450
HAZARD:
June 2009, adding roof, gutters/downspouts, and moisture damage to the stone foundation.
CONDEMNED:
March 2009 for missing/vandalized mechanicals, litter and debris. Building lost in bankruptcy in late 2011, as a contract for sale or a transfer to
OTR A.D.O.P.T.
failed to go through.
ORDERS:
Already vacant in May 2002, ordered barricaded and kept vacant. Re-issued in August 2004, plans to rehabilitate the property. Re-issued again in December 2006. A criminal case was filed in May 2007, but dismissed in November 2009 by request of the prosecutor.
REASON RAZED:
Declared a public nuisance and entered into the City's hazard abatement program.
MAP