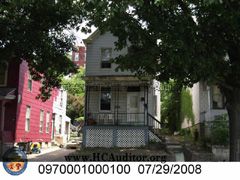 NEIGHBORHOOD:
Fairview
YEAR BUILT:
1900
USE:
Single-family dwelling
OWNER:
Bank of America NA
ASSESSED VALUE:
$11,000
HAZARD:
June 2011. Foreclosure.
CONDEMNED:
October 2010, following a two-alarm fire on August 6, 2010 that severely damaged the structure. Criminal status.
ORDERS:
July 2009, for gutters and downspouts, soffit, electrical service entrance cable, siding, exterior paint, porch, exterior handrail, plaster, doors, sink and fixtures, and electrical system.
REASON RAZED:
Declared a public nuisance and entered into the City's hazard abatement program.
MAP