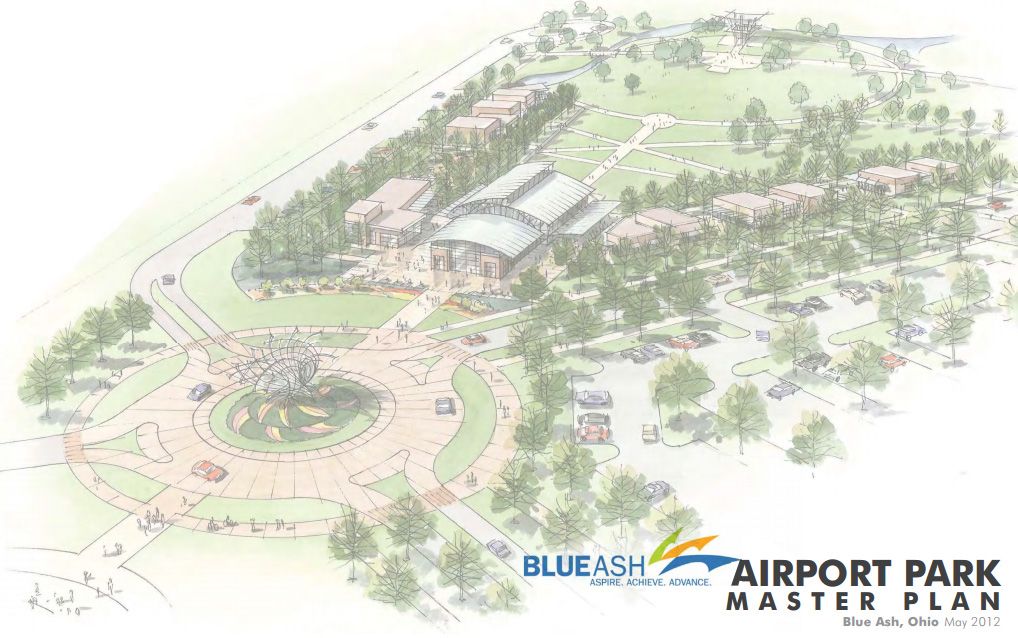 With the
master plan
completed, the City of Blue Ash has issued requests for qualifications for professional design, civil engineering, and construction management services for Phase I of the $20 million, 130-acre Blue Ash Airport Park.
Phase I of the project, estimated to cost $13.5 million, includes site preparation, utilities and infrastructure – including design improvements to
Glendale-Milford and Plainfield roads
; the construction of a one-story, 7,000-square-foot park pavilion, a 7,000-square-foot shell restaurant facility that can accommodate a future bistro, and a connecting 10,000-square-foot park commons canopy; a seven-story observation tower with a 120-by-80-foot stage pad; and hike-bike trails.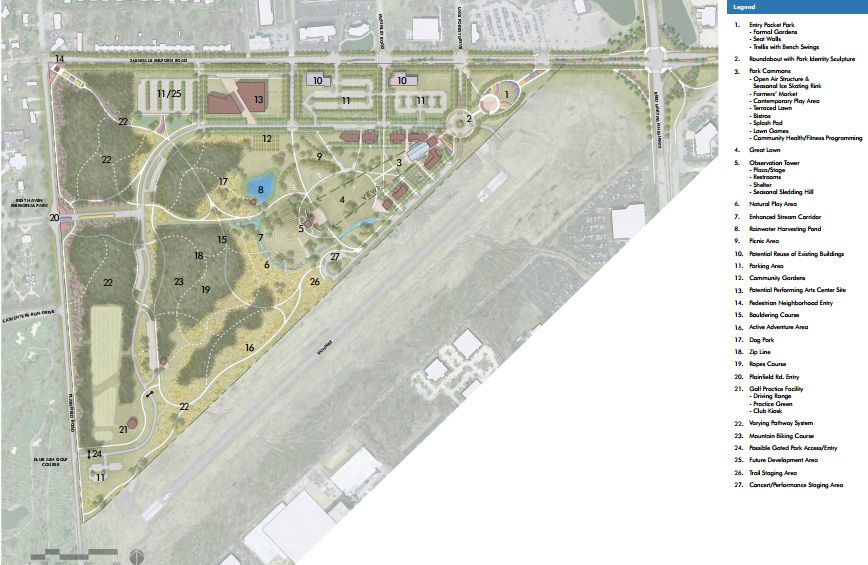 Future phases, contingent upon available funding, could include a performing arts center, driving range, dog park, and children's and natural playgrounds.
The closing date for receiving RFQs is June 13 at 5 P.M., and the winning teams will be selected August 9.
Design of Phase I is scheduled to begin in July, with infrastructure construction beginning early next year and facilities construction beginning in 2014.
Airport future uncertain
Funding for the project comes from a 0.25-percent rise in the City's earnings tax, approved by voters as Issue 15 in 2006. Blue Ash closed on the property on August 31, 2007 and will pay $37.5 million over 30 years.
Under terms of the sale agreement, the City of Cincinnati was required to apply for a $10 million
Federal Aviation Administration (FAA)
grant to reconfigure and redevelop the airport on the site's remaining 98 acres, with Blue Ash kicking in $2 million in matching funds should the grant be awarded.
Having been denied the grant, Cincinnati has announced that, due to financial hardships that would occur if it continued to operate the airport, it would close the airport as soon as next month.
Although Blue Ash has the first option to purchase the airport, it has balked at the reported asking price of $24 million. Blue Ash Mayor Mark Weber has said that even if it could pay that purchase price, funding continued operation of the airport is likely beyond the city's means.
Blue Ash City Council has formed an advisory committee made composed of city officials and pilot advocates to look into its options. If Cincinnati does sell the airport to Blue Ash, FAA rules allow proceeds from that sale to be used for non-aviation-related City expenses, which could make a deal more attractive.
An airport has operated on the site since 1921, and Cincinnati has owned it since 1955.
Previous reading on BC:
Ordinance supports Blue Ash Airport cleanup (2/1/11)
Cincinnati, Blue Ash await CORF, FAA funds for airport (7/12/10)
Construction on Blue Ash's 'central park' unlikely until 2012-2013 (12/8/09)
Blue Ash Airport cleanup a go (10/29/08)
Cincinnati to create account for Blue Ash Airport cleanup (10/22/08)