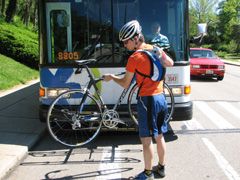 In celebration of tomorrow's Bike to Work Day, bicycle commuters can ride free on
Metro
,
Transit Authority of Northern Kentucky (TANK)
, and
Clermont Transportation Connection
when they transport their bikes on the buses' bike racks.
Metro and TANK will also be at the Bike to Work Day Celebration, from noon to 1 P.M. on
Fountain Square
, demonstrating the ease of biking and riding buses. Bike racks are located on the front of each bus and can accommodate two bicycles.
"All Metro buses have bike racks, and many bike riders use our service every day," said Metro CEO and General Manager Terry Garcia Crews in a prepared release. "We hope that Bike to Work Day encourages even more bike riders to use public transportation while still enjoying the benefits of cycling."
"TANK's bike racks have been very popular," said TANK General Manager Andrew Aiello. "It's a win-win for people who want to commute part of the way on bike and finish the trip on transit."
Both Metro and TANK have been recognized as Gold Certified Bike Friendly Destinations by local advocacy group
Queen City Bike
for their roles in promoting bicycle ridership through advocacy and infrastructure improvements.
Photo provided.
Previous reading on BC:
Metro unveils new system map (3/16/12)
Metro to update regional transit plan, study Uptown service (3/15/12)
Metro adds three hybrid buses to fleet (8/5/10)
Metro wins $1.9M for hybrid buses (6/10/10)
Metro honored for safety, plans new communications system (6/8/10)