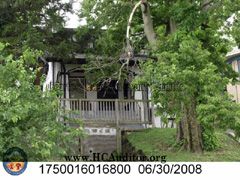 NEIGHBORHOOD:
East Price Hill
YEAR BUILT:
1915
USE:
Two-family dwelling
OWNER:
Price Hill Property Group, Ltd.
ASSESSED VALUE:
$35,310
HAZARD:
--
CONDEMNED:
October 2011, due to a large fire on June 26, 2001 that caused $70,000 in damage. Forty-five firefighters fought the blaze. Two people were inside, but neither was injured.
ORDERS:
--
REASON RAZED:
Severe fire damage. Razed privately.
MAP