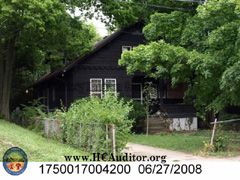 NEIGHBORHOOD:
East Price Hill
YEAR BUILT:
1910
USE:
Single-family dwelling
OWNER:
KB Partners LLC
ASSESSED VALUE:
$35,440
HAZARD:
--
CONDEMNED:
September 2011, due to trespassers, vandalism, weather damage, gutters and downspouts, siding, broken and missing windows, a structurally unsound front porch, a damaged front door, trash, and lack of mechanicals and utilities.
ORDERS:
Dating to July 2011, the result of a structure fire that started in the kitchen.
REASON RAZED:
Razed by the owner to close code violations.
MAP