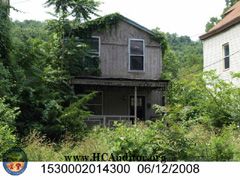 NEIGHBORHOOD:
Sedamsville
YEAR BUILT:
1888
USE:
Single-family dwelling
OWNER:
Pacific West Group Inc.
ASSESSED VALUE:
$15,530
HAZARD:
September 2009.
CONDEMNED:
June 2009, for a hazardous roof and porch, failing deck, damaged siding, broken and missing windows and doors, defective gutters, and trash.
ORDERS:
Dating to September 2004, when it was ordered barricaded and vacated by the City due to trespassing and drug activity. Reissued to new owner in April 2006, then to Pacific West Group in May 2008. A criminal case was filed in June 2009, but later dismissed due to want of prosecution.
REASON RAZED:
Declared a public nuisance and entered into the City's hazard abatement program.
MAP