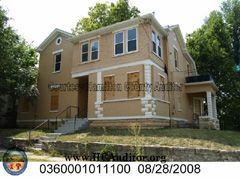 NEIGHBORHOOD:
Madisonville
YEAR BUILT:
1875
USE:
Multi-family dwelling (4 units)
OWNER:
AT Redevelopment Company LLC
(Ulmer & Berne LLP)
ASSESSED VALUE:
$46,000
HAZARD:
--
CONDEMNED:
--
ORDERS:
Vacant for at least five years, in February 2010 the City issued orders for the roof, gutters and downspouts, soffit, windows, exterior steps, exterior handrail, exterior doors, water leakage and damage, ventilation systems, and electric fixtures.
REASON RAZED:
Unknown. Questions to the property owner were returned, but details were not provided.
MAP