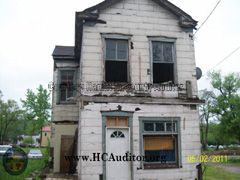 NEIGHBORHOOD:
East End
YEAR BUILT:
1880
USE:
Single-family dwelling
OWNER:
Jerry Rhoden Jr.
ASSESSED VALUE:
$17,610
HAZARD:
April 2011.
CONDEMNED:
August 2010, for walls, windows, gutters/downspouts, cornice, a bulging wall, missing siding, trash and debris, and broken/missing mechanical systems. The building had become vacant and was heavily vandalized.
ORDERS:
Dating to June 2004, for roof, chimney, gutter/downspouts, cornice, siding, windows, porch, plaster, paint, sink and plumbing lines, electric fixtures, and stairs. Compliance achieved in April 2006.
REASON RAZED:
Declared a public nuisance and entered into the City's hazard abatement program. The property likely will become part of a parking lot for
Eli's BBQ
.
MAP