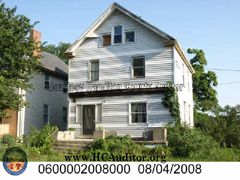 NEIGHBORHOOD:
Walnut Hills
YEAR BUILT:
1890
USE:
Single-family dwelling
OWNER:
Florence V. Nance
ASSESSED VALUE:
$21,520
HAZARD:
August 2009, now with structural cracks, water damage, overgrown vegetation.
CONDEMNED:
February 2009. Criminal case filed May 2009. ???
ORDERS:
February 2003, for chimney, porch, gutters and downspouts, broken windows, roof, fence, paint, cornice and soffits. In November 2004, lack of utilities and plaster falling. Owner found to be deceased. Estate unsettled. Ordered barricaded and vacated by the City in December 2007.
REASON RAZED:
Declared a public nuisance and entered into the City's hazard abatement program.
MAP