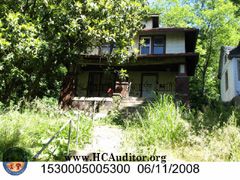 NEIGHBORHOOD:
Sedamsville
YEAR BUILT:
1925
USE:
Single-family dwelling
OWNER:
Robert L. Morris
ASSESSED VALUE:
$14,030
HAZARD:
May 2010, added vandalism to structure and mechanical systems.
CONDEMNED:
April 2008. A criminal case was filed against the owner, who was later found to be deceased.
ORDERS:
Dating to January 2003, for gutters and downspouts, broken windows, a rotted porch, exterior doors, and trash. October 2005, added exterior steps. Property in litigation for a land contract dispute with tenant. In May 2007, added walks, roof, chimney, cornice, siding, and exterior paint. Ordered vacated by the City in June 2007.
REASON RAZED:
Declared a public nuisance and entered into the City's hazard abatement program.
MAP