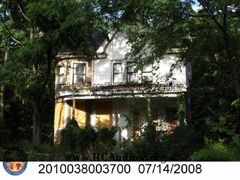 NEIGHBORHOOD:
Millvale
YEAR BUILT:
1910
USE:
Two-family dwelling
OWNER:
Benjamin F. Shelton Sr.
ASSESSED VALUE:
$15,880
HAZARD:
December 2010.
CONDEMNED:
January 2010, for failing roof, chimney damage, cornice, and porch. The building was open to trespassers. The owner was deceased, no probate action, no owner.
ORDERS:
--
REASON RAZED:
Declared a public nuisance and entered into the City's hazard abatement program.
MAP