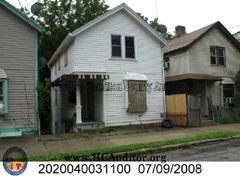 NEIGHBORHOOD:
North Fairmount
YEAR BUILT:
1908
USE:
Single-family dwelling
OWNER:
Hamilton County Board of County Commissioners
ASSESSED VALUE:
$50,000
HAZARD:
--
CONDEMNED:
October 2009, due to lack of utilities, vandalism, and copper theft.
ORDERS:
Dating to March 2009, ordered barricaded and vacated by the City. Exterior violations and no utilities since 2006.
REASON RAZED:
Razed as part of the Metropolitan Sewer District of Greater Cincinnati's
Denham Watershed sewer project
.
MAP