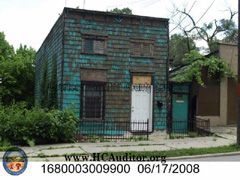 NEIGHBORHOOD:
Lower Price Hill
YEAR BUILT:
1895
USE:
Two-family dwelling
OWNER:
John William Winkle
ASSESSED VALUE:
$5,610
HAZARD:
December 2008.
CONDEMNED:
August 2008, for rotted roof and framing on building additions, siding, chimneys, gutters and downspouts, and broken or missing windows.
ORDERS:
Ordered vacated in January 2007, although it was already vacant and vandalized.
REASON RAZED:
Declared a public nuisance and entered into the City's hazard abatement program.
MAP