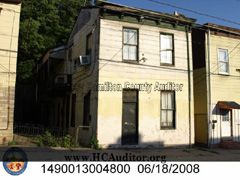 NEIGHBORHOOD:
Lower Price Hill
YEAR BUILT:
1875
USE:
Three-family dwelling
OWNER:
Thomas J. and Amanda Ferris
ASSESSED VALUE:
$12,180
HAZARD:
August 2010, for same violations.
CONDEMNED:
April 2010, for defective porch, siding, brick work, cornice and gutter, downspouts and chimney. Mr. Ferris had passed away, Mrs. Ferris was elderly, living on a fixed income, and no longer living in the property.
ORDERS:
--
REASON RAZED:
Declared a public nuisance and entered into the City's hazard abatement program.
MAP