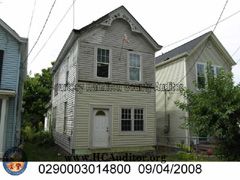 NEIGHBORHOOD:
East End
YEAR BUILT:
1884
USE:
Single-family dwelling
OWNER:
Lela Neville
ASSESSED VALUE:
$21,530
HAZARD:
December 2010.
CONDEMNED:
March 2010. Building had been vandalized, mechanical systems were missing. Front porch had been removed.
ORDERS:
Dating from July 2005, for cornice, roof, flashing and paint. Civil case dismissed. New orders issued March 2008 for previous violations, plus siding. Owner deceased, house in foreclosure. City ordered building vacated and barricaded in September 2009.
REASON RAZED:
Declared a public nuisance and entered into the City's hazard abatement program.
MAP