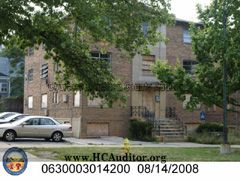 NEIGHBORHOOD:
Walnut Hills
YEAR BUILT:
1900
USE:
Multi-family dwelling, 12 units
OWNER:
Lion Properties, LLC
ASSESSED VALUE:
$395,250
HAZARD:
November 2010, after being vacant for more than three years. Heavy vandalism.
CONDEMNED:
August 2009, after being vacant for more than two years.
ORDERS:
2004, for being used as illegal rooming house which had defective wiring (extension cords) and plumbing. Vacated by the City in February 2007 for violations too numerous to list.
REASON RAZED:
Declared a public nuisance and entered into the hazard abatement program. No prosecution of owner.
MAP