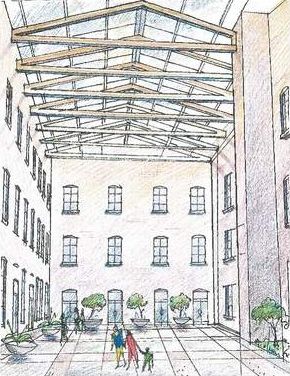 The City of Cincinnati Department of Public Services has issued a request for qualifications for design/build services for the $4.4 million City Hall Atrium project.
The project, proposed by City Manager Milton Dohoney, will enclose the building's courtyard, creating an event space that can accommodate between 300 and 500 people for weddings, conventions, and other occasions. Parking would be maintained at ground level, with the event space on a floor built above.
Sealed bids must be submitted by no later than 4 P.M. on April 9, and a winning team will be selected within the following two to three weeks. Construction is scheduled tentatively to begin in June.
Funding for the project will come from the 2012 ($2.4 million) and 2013 ($2 million) capital budgets.
Last month, councilmembers voted 5-4 to approve the project. Councilmembers voting against the project – Seelbach, Sittenfeld, Smitherman and Winburn – cited a lack of discretionary funds, the inability of the project to pay for itself, the availability of space elsewhere, and the loss of event business to private venues.
According to Dohoney, the project will generate revenue for the City, help offset an annual $780,000 in building operating and maintenance costs, and restore City Hall, listed on the
National Register of Historic Places
, as a centerpiece of civic life.