Walnut Hills community and business leaders hope to get moving on rejuvenating its E McMillan Street/Peebles Corner business district by the end of the first quarter of next year, a project that's been more than four years in the making.

The redevelopment project dates back to March 2005, when Walnut Hills received a $1 million windfall from Cincinnati City Council Anthem funds.

But strings were attached – the neighborhood had to find a suitable community capital improvement project on which to spend the money.

"It was always intended to jumpstart some action and enhance Peebles Corner as one of the gateways to Cincinnati," says Kathy Atkinson, president of the Walnut Hills Area Council (WHAC).

A working group composed of representatives from WHAC and the Walnut Hills Business Association was assembled, and the idea of an E McMillan Street streetscape project emerged.


Streetscape designs eventually were put on the back burner to finish a project in Avondale – but enhancements to the Harriet Beecher Stowe House, the Walnut Hills Presbyterian Church bell tower at Gilbert Avenue and William Howard Taft Road, and the installation of a fiber optic loop did signal improvements to the neighborhood.



Not on the agenda

In 2007, a new City Council brought people unfamiliar with the original streetscape proposal, and Atkinson says that Walnut Hills was rarely on the agenda.

Even worse, City budget problems spelled possible doom for the project. In 2008, a portion of the money was redirected to a homeowner rehab project in Evanston.

"We became concerned that the unspent funds would be raided to fix deficits," Atkinson said. "At this point, our streetscape was supposed to happen three years ago, instead of everything else."

Meanwhile, absentee landlords continued to hold key properties in the deteriorating business district, stifling investment and public buy-in.



New plan

In March 2009, Walnut Hills community leaders began working with the City's Department of Community Development, seeking ways in which they could use the streetscape money for other projects.

The idea was to transfer the streetscape money to a new capital project account and to forge public-private partnerships for the acquisition, demolition, and rehabilitation of buildings along E McMillan Street, between Park Avenue and Concord Street.

Between 10 and 15 buildings would be acquired, with approximately half slated for demolition.

Targeted demolitions would provide for larger-scale, contiguous lots that could be attractive to developers, Atkinson says.

"The exorbitant costs of bringing some of the blighted, vacant buildings online in a way that would serve the community did not seem like a realistic use of our limited money," she says. "The rest are ready for rehab and to become anchors in our business district."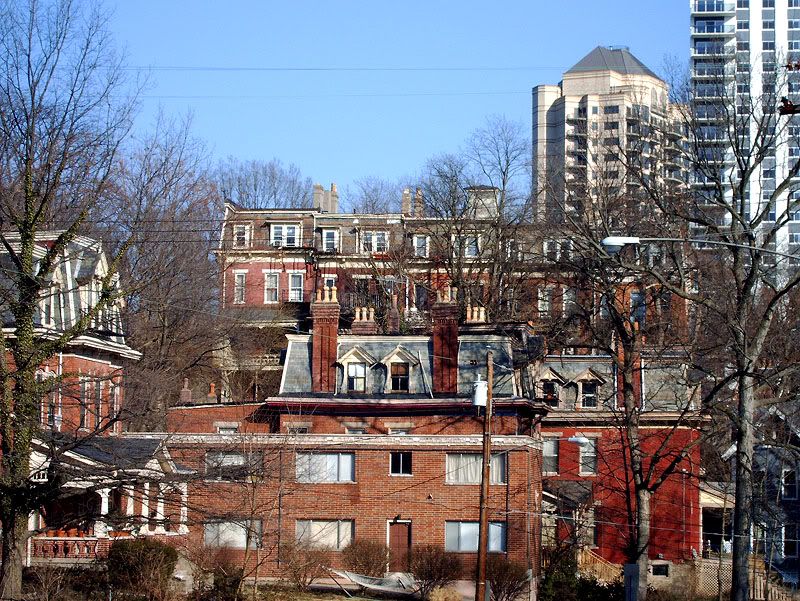 Good stewards

No contracts have been signed on any of the properties, Atkinson says.

City Council has an ordinance pending that would amend a prior ordinance passed in September, creating a $1.5 million capital project account and a $140,000 Community Development Block Grant (CDBG) project account for the work.

The amended ordinance says that the CDBG account will not be used to demolish buildings in the historic district, which would involve extensive review by Historic Conservation staff and could delay the project's implementation.

"The community has worked very, very hard to be good stewards of the resources given to us," Atkinson said. "We don't want to continue to present Walnut Hills the way it's been presented over the last several years. We trust that the City's on board with that goal."

Peebles Corner photos courtesy of Dan Becker/Queen City Survey.

Previous reading on BC:
Capital, CDBG accounts approved for Peebles Corner (9/29/09)
Money could come to Peebles Corner (9/9/09)
Finance Committee discusses changes on streetscape TIFs (12/6/07)
City taking action on streetscape TIFs (11/1/07)
Council authorizes bonds for Evanston, Walnut Hills streetscapes (9/24/07)