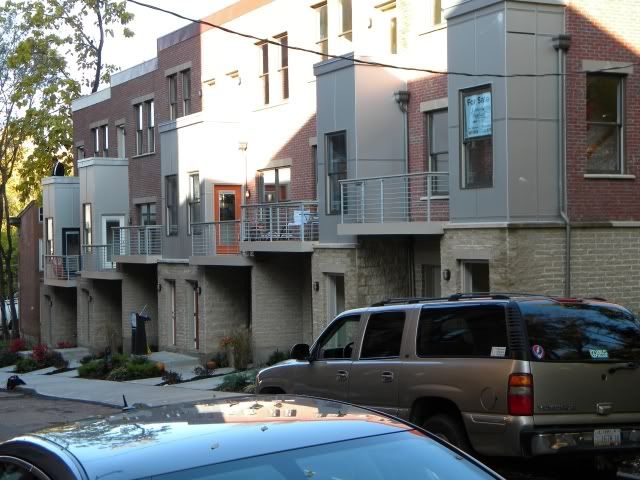 A project that was declared "dead in the water" by its developer just 15 months ago officially was declared alive and well at a ribbon-cutting ceremony on Thursday.

Dandridge Studio Town Homes, a six-unit infill project across from the Pendleton Art Center at 508-518 Dandridge Street in Pendleton, now has units available for between $165,000 and $199,000.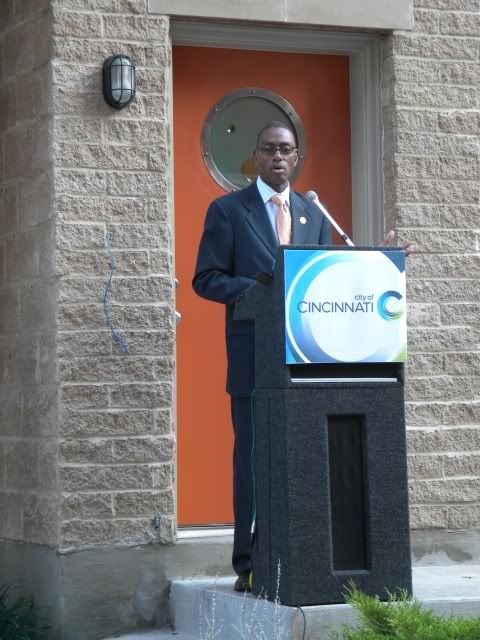 "This is a great project," said Cincinnati mayor Mark Mallory. "Six new townhomes – a part of the continuous effort to revitalize this community along with Over-the-Rhine and many communities around Cincinnati."


Years in the making

In 2005, Cincinnati Development Fund (CDF) provided loan financing through its Cincinnati Housing Development Fund (CHDF) and Over-the-Rhine Predevelopment Fund to developer Gary Mark Custom Homes for the Galleries at Pendleton, the first phase of what was envisioned as a two-phased project of 17 townhomes on Dandridge, Pendleton, and Spring streets.


A depressed real estate market caused the developer to become over-extended, leading CDF to foreclose on the half-completed project.

But Gary Zakem, owner and founder of Gary Mark Custom Homes, blamed the lack of City investment in water lines and tap-ins for his financial losses, and, in July 2008, told Building Cincinnati that he consistently ran into problems getting City permits and having issues with open-air drug dealing and litter dealt with.

As a result, he lost the deposits from two buyers, he said.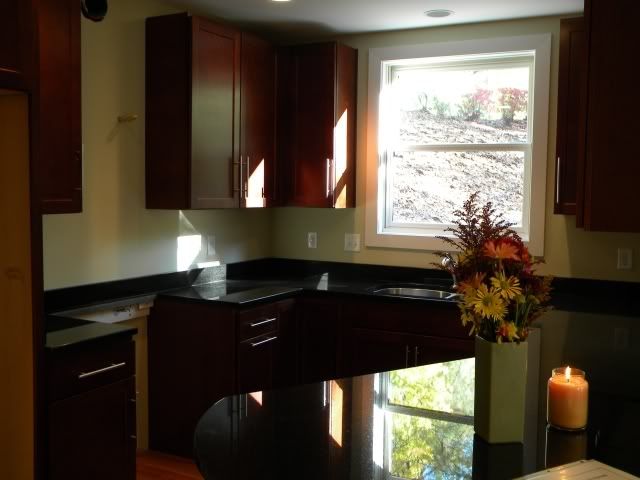 New developer 'fell out of the sky'

CDF marketed the property aggressively to developers to make sure that the project did not continue to lose value, which could cause additional losses to CHDF member banks.

The first sheriff's auction saw no takers, but, in January 2009, in stepped Chris Lacey, one of the partners who helped develop the Lofts at Fountain Square.

"The good news is that in this economic downturn, this gentleman just kind of fell out of the sky one day," said Jim Tarbell, former vice mayor and a long-time neighborhood resident and activist. "And [then] he just did this shift from Fourth and Vine to Dandridge and Pendleton. Now that's the kind of shift that we like to see!"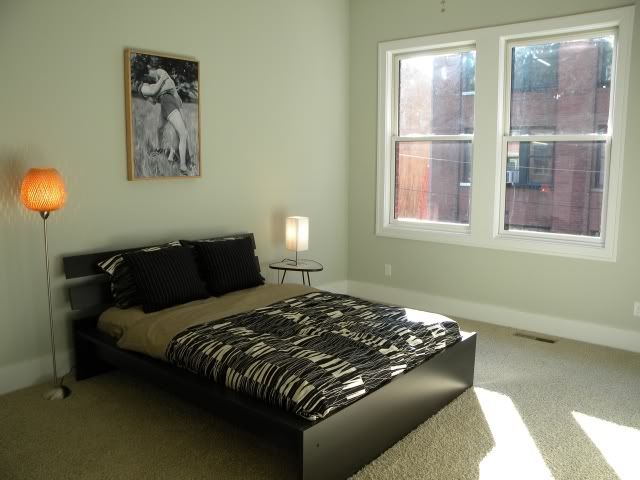 Unlike Zakem, Lacey said that the City's assistance was overwhelming.

"When I came up to this project, unfortunately it was a failed project and it had a lot of hair on it," Lacey said. "I worked with a couple of key people at the City that allowed me to move forward with this. I've done a couple of projects Downtown, and they really help guys like me push things forward when I get into a tight spot."

Spring Valley Bank stepped up to provide the acquisition loan, and PNC Mortgage is providing end loans for buyers.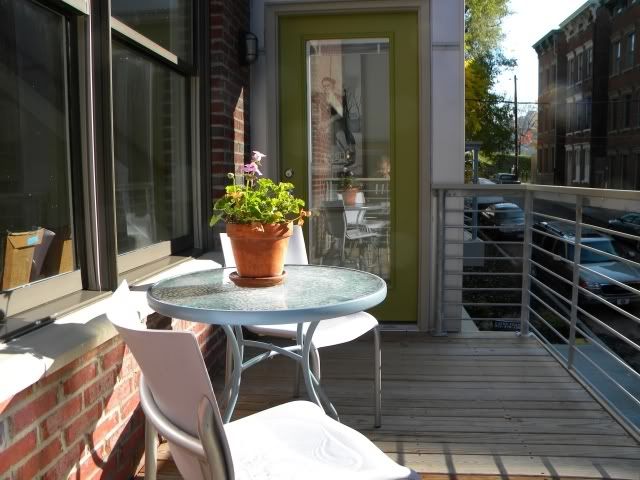 "This transformation is real and it is happening because people are committed to seeing it happen," Mallory said.

Lacey also thanked the Pendleton community for helping him develop in unfamiliar territory, which Tarbell described as the marriage of resources with attitude.

"He embraces the neighborhood wholeheartedly, and you'll see the results," Tarbell said.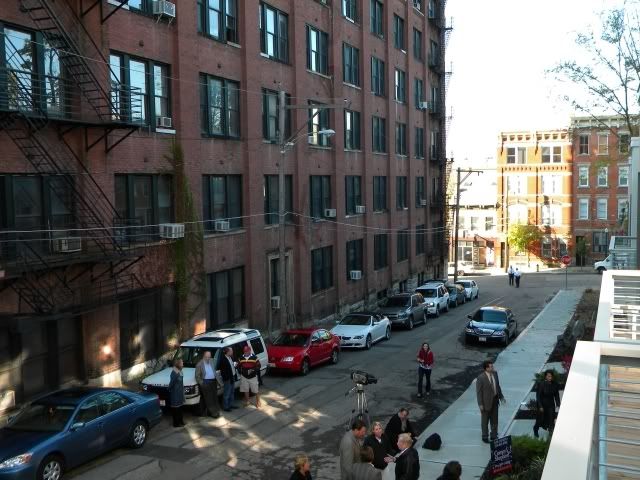 The Indian Hill of OTR

Tarbell said that over his 40 years in the neighborhood, Dandridge Street has been rather rough.

And he noted that the project may just be the first new infill construction in the neighborhood in more than 100 years.

"This is the future, and we're so lucky," Tarbell said. "When you put new construction in an antique environment, it's a different world. It's a stamp of approval that, like it or not, is so critical to the future of a neighborhood."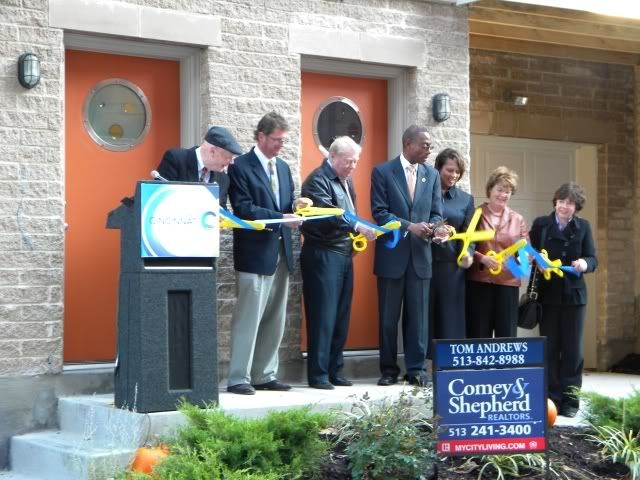 "Back then it was really tough to envision what would happen today," said Jim Verdin, president of the Verdin Company, whose company began re-investing in the neighborhood in 1981 and created the Pendleton Art Center. "The art center has been the centerpiece of Pendleton. There's over 400 artists in this area. This is the world's largest arts center with the number of artists under one roof. So, we'll continue to grow. If the casino pops up, I think this area will become the Indian Hill of Over-the-Rhine."

A decorated model unit of the Dandridge Studio Town Homes is open, and one sale is pending.

The properties are being sold through the Comey & Shepherd Realtors City Office.

Previous reading on BC:
Galleries at Pendleton back on track (4/30/09)
Death on Dandridge (7/10/08)
Galleries at Pendleton photo update, 2/16/08 (2/22/08)
Photo update: The Galleries at Pendleton (8/31/07)