Yesterday evening at Joseph-Beth Booksellers at Rookwood Pavilion in Norwood, proponents of Hamilton County Issue 6 held a panel discussion and Q&A session to explain why the levy renewal should be passed.

Making up approximately 16 percent of the Cincinnati Museum Center's operating budget, revenues from the levy would raise approximately $3.3 million over the next five years to help keep the building stable and safe, covering such expenses as utilities, maintenance, and insurance.

Douglass W. McDonald, president and CEO of the Museum Center, points out that the levy renewal is the smallest countywide tax levy, and would actually result in a net decrease from the current levy.

The owner of a $100,000 home would see a property tax drop from $9.09, approved by voters in 2004, to $4.44.

"It's less than the cost of a postage stamp per month on a $100,000 home," McDonald said.



A national treasure

In 2007, the American Institute of Architects named Cincinnati Union Terminal as the nation's 45th most-important piece of architecture. Forbes Traveler recently named the Museum Center as the 17th most visited museum in the nation.

"It is a national treasure," said Ruby Rogers, director of the Cincinnati Historical Society Library and moderator of the discussion. "It's considered by many to be the most important Art Deco building in the country."

"It is a fantastic building, and many of the original architectural elements and interior decorations that were there in that building originally are still there," said Scott Gampfer, Museum Center director of history and preservation and curator of the Union Terminal: Gateway to the City exhibit, currently on display at the Museum Center.

Some of these building elements include murals, fixtures, door hardware, chairs, and telephone booths – all waiting to be restored.

Today, Union Terminal is in the middle of a $9 million first phase of the restoration of the Cincinnati Dining Room and adjacent areas, which will help inform the scale of the building's needs.

A "holistic" restoration, which would have required a nearly $80 million bond issue to fund $120 million in repairs to the 500,000-square-foot structure, was taken off the table a couple of months ago.

That work, for which the Museum Center expects to begin fundraising in early 2010, is expected to require repairs to the roofing, steel columns, flashing, masonry, windows, and building mechanicals.



Award-winning

This morning at 10 a.m. in the Union Terminal rotunda, Cincinnati mayor Mark Mallory and former state representative William Mallory Sr. will unveil a celebratory banner acknowledging the Cincinnati Museum Center's award of the 2009 National Medal for Museum and Library Service, the nation's highest honor.

Awarded by the Institute of Museum and Library Services, the Museum Center is one of ten national recipients and will receive a $10,000 prize at a ceremony to be held in Washington, DC.

Youth leadership programs, community dialogue, and the use of technology to document and convey historical content were singled out as reasons for the award.

"Cincinnati Museum Center at Union Terminal is a successful cultural experiment — a national model of excellence," McDonald said. "We are the incredible result of merging legacy institutions, a children's museum, and an OMNIMAX theatre that breathed life back into a National Historic Landmark. This award is a tribute to our staff, trustees, donors, members, volunteers and community partners whose unwavering dedication to our mission and innovative efforts has made us a unique asset and a vital community resource."



Museum 'just right'

Passenger rail service terminated at Cincinnati Union Terminal in 1972.

In 1975, the City ran an advertisement in the Wall Street Journal offering the property for lease for $1 per year.

A Columbus developer, Joseph Skilken Organization, spent two years and $20 million converting the structure into a 40-tenant shopping mall that opened in 1980, a use that eventually failed in 1984 due to economic recession and a lack of consumer traffic.

In 1986, a $33 million bond levy, coupled with a plan by the Cincinnati Museum of Natural History and the Cincinnati Historical Society, gave the project new life.

"Many ideas were tossed around for years about what to do with Union Terminal, some outlandish ideas and some pretty good ones," Gampfer said. "But it really wasn't until 1986 that we finally found just the right post-passenger service usage."

Between 1986 and 1991, the building was closed for construction work.

"The idea was let's see if this museum is going to work and make sure and save this building," said Art Hupp, principal at glaserworks. "And it has."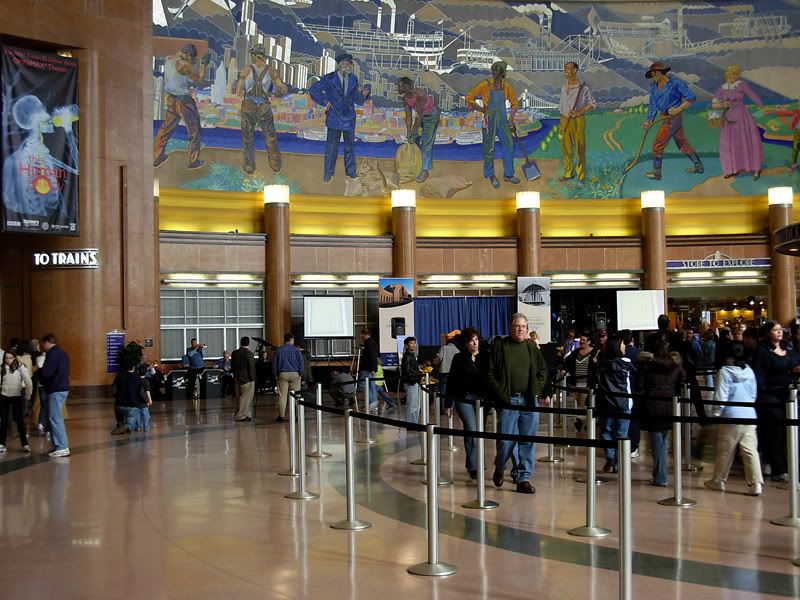 The glory years

Rogers said that the past 19 years have been the most successful in the building's history, pulling in 1.3 million visitors and bringing in $15 million in new money annually, supporting 1,100 jobs.

Statistics show that World War II is the only time the building had been used to its entire capacity as a rail station.

"These are really the glory years of Union Terminal, in terms of what it means to the entire community," Rogers said.


Jeff McClorey, owner of Bromwell's and a member of the Cincinnati Historical Society advisory board, said that a healthy Union Terminal is paramount to a healthy urban core.

"I've been fortunate to be witness to our last five years of a renaissance of the center city," he said. "I think we're definitely on the right track."

Born in Cincinnati, it took a trip to Venezuela to open McClorey's eyes to the wealth of interest that he believes local residents often ignore.

"The architecture that we have here is extraordinary," he said. "We were a big shot a hundred years ago. And now we're not such a big shot, but we have some wonderful infrastructure in this city. Maybe people here don't realize how wonderful it is, or take it for granted. Union Terminal being certainly one of the top three, if not the top."

Sometimes, he said, it takes the eyes of an outsider to see just how special our assets are.

"As a business owner Downtown, I often talk to tourists who come in from other cities," McClorey said. "Inevitably, almost all of them, if they haven't been to Union Terminal, they have plans to go there to see the Museum Center. And, many times, they've come to Cincinnati to see an exhibit there. It's not just coming to Reds games or the Bengals, there are people who actually want to get some culture and see some wonderful things."


Memories remain

Gampfer said that one of the great things about working in the museum is seeing a second generation of museumgoers fall in love with the building, despite never having known it as a train station.

"Their memories of that building are going to be as a museum, and, having been in the building for 20 years, we now get these cases where people came to the building when they were kids – 1991, 1992," he said. "They're now the parents. We're now on to the second generation of people whose sole emotional attachment is as a Museum Center."


Once built upon Lincoln Park and situated amidst an entire neighborhood that was cleared to build I-75 and Queensgate, Gampfer said that Union Terminal still holds a place in the hearts of West End residents, past and present.

"That was a vibrant, residential community," he said. "Union Terminal was built right smack in the middle of it. Everybody who lived in the West End has Union Terminal stories about what it meant to them."

Gampfer said that, lacking air conditioning, many neighborhood residents slept under the trees on the landscaped ground. Children played in the fountain.

"Many got their first jobs there," he said. "There were a number of well-paying jobs. There weren't many well-paying jobs open to African Americans, but Union Terminal had a number of them – everything from the Red Caps and Pullman porters to the wait staff and serving staff in the restaurants to railroad jobs. It really was an important thing to the West End community."


The alternative

So what will happen if Issue 6 fails?

"We don't envision not being successful," McDonald said. "We think there's a good groundswell of support, so we don't speculate on failure. Really, if you look at the successes of Union Terminal, and the successes in terms of public support, the building is really loved and appreciated. The kinds of things that that levy pays for are so critical and essential."

"I know that ballot language can sometimes be confusing, but, in this case, 'yes' means 'yes'," Rogers said.

Previous reading on BC:
Museum Center ramps up pro-levy campaign (8/31/09)
MyUnionTerminal.org shares memories, updates on possible levy (6/17/09)
Cincinnati Goes to War at Union Terminal (6/10/09)
Contractor selected, $120M Union Terminal restoration begins (6/8/09)
Museum Center seeking expanded landmark status (5/26/09)