A hybrid of four design alternatives, each consisting of a new bridge to be built 120 feet west of the Brent Spence Bridge, was presented in a public hearing before Cincinnati City Council's Transportation and Infrastructure Subcommittee last night at the Quality Inn in Queensgate.

Nine alternatives (a no-build option and Alternatives A-H) based on two corridors – the Queensgate Alternative (Alternatives A and B) and the existing right-of way – have been considered and evaluated against a matrix composed of such variables as congestion mitigation, safety, engineering, environmental resource impacts, costs, and constructability.

Four alternatives, no-build, A, F and H, were quickly dropped for being unworkable, with the remainder carried through to the current study.

Alternative B, consisting of the construction of a new bridge through Queensgate to carry I-71 and I-75 traffic, will likely be dropped as an option due to its comparatively higher costs, community disruption, and construction risks.

"Since it's not a corridor that's already been disturbed, we don't know for certain what's there," says Diana Martin, principal for Transcend Consulting Group, LLC. "There just a lot of things that are unknowns in that corridor, and 'unknown' translates into higher cost, and possibly more time, and possibly more disruptions."


Only four alternatives have been recommended for consideration as part of the project's Conceptual Alternatives Study, each costing between $2.3 billion and $2.6 billion:

Alternatives C and D: Two similar alternatives that offer differing levels of access based upon their northbound or southbound orientations
Alternative E: A favorite of Northern Kentucky because it best addresses local access issues
Alternative G: Access points only, and not the mainline configuration
Martin says that the ultimate design will likely be a hybrid of all four alternatives – perhaps an Alternative C/D hybrid north of the river with a transition to Alternative E in Northern Kentucky, with elements taken from Alternative G.
Whichever alternative is selected, traffic analyses have dictated three through lanes for I-75.
"These haven't been developed yet, but they are the thinking that's going to go forward as they move into the next phase of the study," she says.
Martin also warns that, while the mainline routes are fairly rigid, the interchange design is extremely preliminary.
"At this point, the interchanges along I-75 are primarily placeholders," Martin says. "So there are a number of drawings out there that are kind of schematic in terms of how it might work, but they need to be considered at this stage of the process more in terms of placeholders than in terms of recommended interchange design."
Creative company threatened
CEO Simon Hay of retail branding and customer service company
dunnhumbyUSA
worries that the alternatives under consideration would cut right through
444 W Third Street
, part of a $17 million renovation project by
Al. Neyer, Inc.
that would allow his company to add up to 350 Downtown jobs over the next five years.
"I think we'd find it difficult to work in a building that had major interstates running through it," he says.
Last November, the company signed a 10-year lease to occupy the 150,000-square-foot building, and recently signed a letter of intent to purchase it.
"It's particularly disappointing because 444 is the last building of its kind in Downtown Cincinnati that offers us 150,000 square feet of contiguous office space in an open, loft-style environment," Hay says.
Molly Paquette, real estate development director with Al. Neyer, Inc., also worries that her company's $20 million investment in the property and work to secure a tax abatement could all be wasted.
"We're clearly really concerned and disappointed to see the distribution of a number of diagrams that show roads plowing through what we've all been towards for some time now," she says.
Hay says that he understands that the building could be taken at some point after 2012, but he'll have to look to other options if planners can't incorporate the building into the preferred alternative.
"We would be forced to look at new locations inside the Tri-State area," he says. "We'd be sad to leave Downtown, the City, and the state of Ohio, but my responsibility is to our employees and our shareholders."
"I sure would, as a resident, hate to see those 500 jobs picked up and moved who knows where," Paquette says. "So, where there might be an opportunity to tinker with this design a bit, I think that in addition to the $20 million investment hard costs made into this, there are some real salary dollars too that have big value that I think require your consideration."
Roxanne Qualls, chair of the Transportation and Infrastructure Subcommittee, says that such concerns can often be accommodated.
"One of the things that we learned when we did Fort Washington Way is that, with a lot of effort and a lot of work, you can avoid buildings," she says. "That's not a promise, but there's clearly experience in that area."
Queensgate Alternative has few friends
Even though the proposal is likely dead, representatives from
Duke Energy
,
Cincinnati Museum Center
, and the
Queensgate Business Alliance
voiced their support for elimination of the Queensgate Alternative.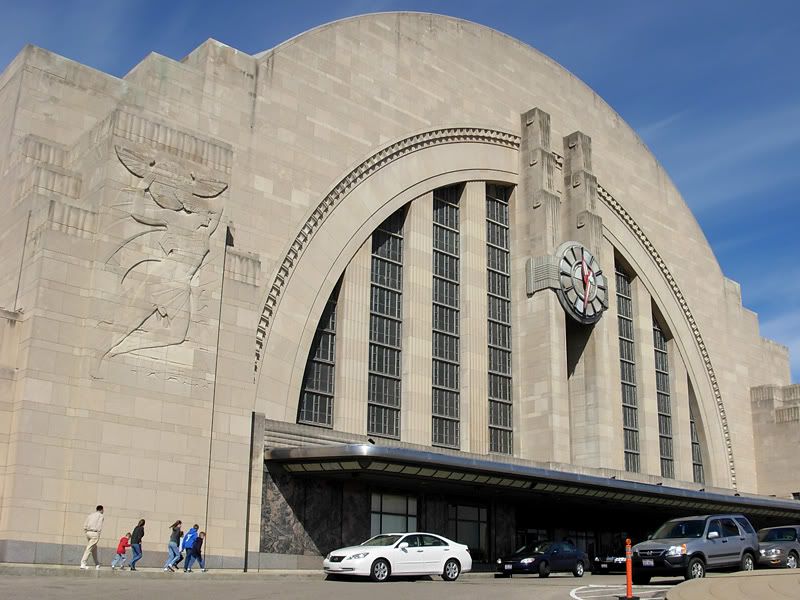 "A new bridge through Queensgate is a mistake that would devastate this area from new economic growth and would further isolate it from the Downtown core," says Sandra Shipley, chief of staff and vice president of exhibits at the Cincinnati Museum Center.
To Shipley, destinations such as the Cincinnati Museum Center need much better access and signage, especially from I-75 northbound.
"You should take this ride sometime," she says. "The current route directs you to exit onto U.S. 50 west, take Gest Street through Queensgate, under the Dalton Street tunnel, and around to our surface parking lot in front of the building. We still have taxi cab drivers who get lost."
Jim Olman, chairman of the Queensgate Business Alliance, also says that economic concerns dictate that any selected alternative stay within the current right-of-way.
"Any deviations from that concept would be absolutely killer from an economic standpoint to the current businesses in Queensgate and the future businesses, hopefully, that come into the Queensgate area," he says. "This is the City's office and industrial park, and it's vital to the growth of the area."
City, public will remain involved
The City of Cincinnati has developed a draft list of criteria against which it will better refine the remaining alternatives, including coordination with intermodal and other infrastructure, the roadway's operations and function, aesthetics and design, economic development, public safety, and environmental and green elements.
Qualls says that there has even been discussion about developing a theme for the corridor, which can be incorporated into the highway's design elements.
"What has been suggested by some is that this should be the greenest expressway corridor in the country," she says. "And that means a lot of things, ranging from the
MSD
sewer improvements, ranging from the park plans that are proposed for the 75 corridor, looking at things such as solar, wind, other types of things."
Public comments on the Conceptual Alternatives Study will be accepted through early June, and will then be forwarded to the Federal Highway Administration for final consideration.
The earliest construction could start is 2015, Qualls says.
Previous reading on BC:
Brent Spence open houses to show alternatives this week (5/4/09)
City report: Eliminate intrusive Brent Spence alternatives (10/1/08)
Cincinnati council resolves to save Queensgate businesses, light rail options (3/28/08)
Brent Spence project releases amended schedule (2/27/08)