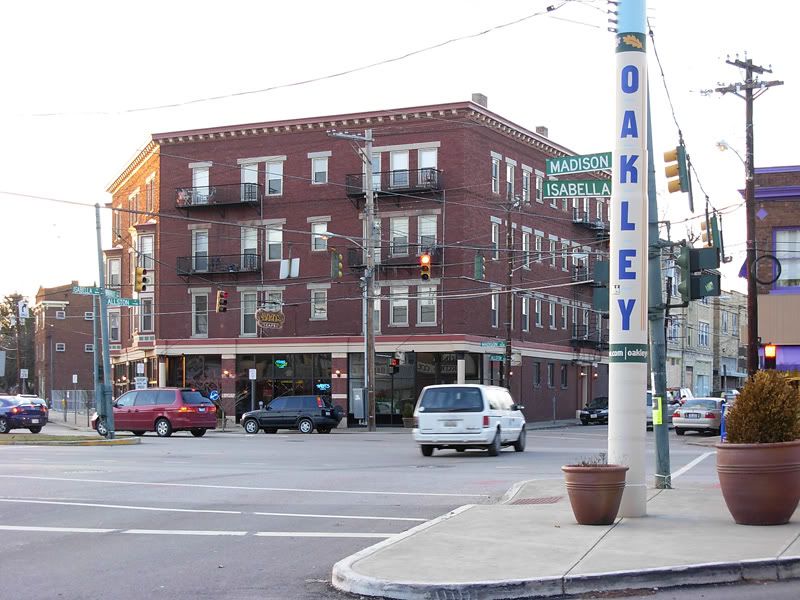 Yes, it will.

Minot Avenue resident Sophia Paparodis has concerns about traffic and speeding on her street, and she doesn't like the City's November approval of an ordinance converting Allston Street to one-way northbound.

The change is part of a project to improve Oakley Square that will include an expanded Geier Esplanade, safer intersections and bump outs, new bus stops, sidewalks and street trees, sewer improvements, and new signage and lighting.

Paparodis found out about the Allston proposal last July from Oakley Community Council member Skip Allen, and, in an e-mail to Cincinnati City Councilmember and chair of the Vibrant Neighborhoods Committee Roxanne Qualls, it was news to her and to her neighbors.

"Improving the square is well supported by everyone I talked to on Minot Avenue but no one knew about the change to Allston," she says.

She says that the speed humps have helped calm the speeding on her street, but there are other traffic issues that are affecting her street.

Minot Avenue, as the last street before the ramp to I-71 northbound, sees considerable automobile traffic from drivers seeking a shortcut to the interstate.

"We are still experiencing traffic that causes families to move, sell their homes and the rate of rental properties owned by investors have increased," she says.

In her opinion, impending commercial development at the Rookwood Exchange site will only make the problem worse.

"And because the traffic heading to I-71 north on Edwards Road has continued I became very concerned about the decline in stability and quality of life on Minot Avenue," she says. "At certain times of the day we can barely turn left onto Edwards from Minot Avenue. We sit waiting on a street barely big enough for the parked cars and two way traffic as cars file in behind us."


Petition drive

In August 2008, all but two residents of the 2800 block of Minot Avenue signed a petition to have the street converted to one-way traffic or dead-ended from Edwards Road to 28th Avenue.

"We have seen other streets that intersect with Edwards become dead ends or one ways and we want to protect our neighborhood just like other Oakley residents who are effected by the Rookwood development," she says.

In September, the residents presented their petition to the Oakley Community Council, and it was forwarded to the City's Division of Traffic Engineering for a report.


DOTE recommendations

A report by the Department of Transportation and Engineering (DOTE) found that:


There has been a low crash volume at Minot and Edwards since 2004.
There has been a low crash volume on Minot from Edwards to 28th since 2004.
Overall, travel patterns through speed-humped areas were safe and appropriate for the conditions.
In assessing the conversion of Minot into a one-way street, DOTE believes that traffic would be diverted to Markbreit Avenue, an already overburdened street, and that the increased traffic would only worsen congestion at the intersection of Edwards, Markbreit and Williams during peak hours.
The report also says that the amount of traffic using Allston Street northbound is currently low, and that there's no reason to believe that traffic would increase as a result of the change.
In fact, they say that traffic traveling southbound on Allston Street would have to find an alternate route, leading to a net decrease in traffic.
"In summary, the Division of Traffic Engineering cannot recommend any change to Minot Avenue from Edwards to 28th," Martha Kelly, acting city traffic engineer, says in the report. "The count, speed and crash data does not show an unusual pattern of accidents or speeding on the street."
Kelly also says that the overall street grid is essential to the effective distribution of traffic in Oakley.
"Therefore, the residents on any one portion of a through street cannot determine changes to that street segment without the support of a majority of residents on other impacted streets," she says.
Paparodis not buying it
"The DOTE report came back with no solution, no change in plans and not even one recommendation of how to make our neighborhood more livable considering the plans to divert more traffic from the square," Paparodis says. "I have not been able to convince the OCC or the DOTE to reconsider their plans to divert more traffic onto this residential street that needs the parking it has on both sides, does not even have a line down the middle, narrows as it goes downhill to Edwards and is increasing [sic] becoming investment rental property rather than homes with families."
Paparodis also says that the same Skip Allen who told her about the plans for Allston Street helped create the Oakley Square plans, and that Allen owns several boarded up properties on Allston Street that he purchased over the last couple of years.
One of those buildings was demolished last month.
"Mr. Allen does not live in Oakley but has a business in Oakley," Paparodis says. "He does not think the change would effect [sic] the traffic on Minot and is in agreement with the DOTE but,
everyone
I have spoken to who lives on Minot Avenue has the same reaction - of course it will increase traffic."
Petition II
Paparodis is now collecting signatures from the 2900 and 3000 blocks of Minot Avenue, closer to Allston Street, and is hoping that council's Vibrant Neighborhoods Committee will be able to address the issue.
A report to council from city manager Milton Dohoney Jr. is due by March 18.
Improvements to Oakley Square are scheduled to begin later this year.
Previous reading on BC:
Madison Road, Oakley Square drawings released (12/24/08)
Cincinnati rolls out three 'new' streetscape TIF projects (4/4/08)
Finance Committee discusses changes on streetscape TIFs (12/6/07)